Top 3 Steps in Creating a Content Strategy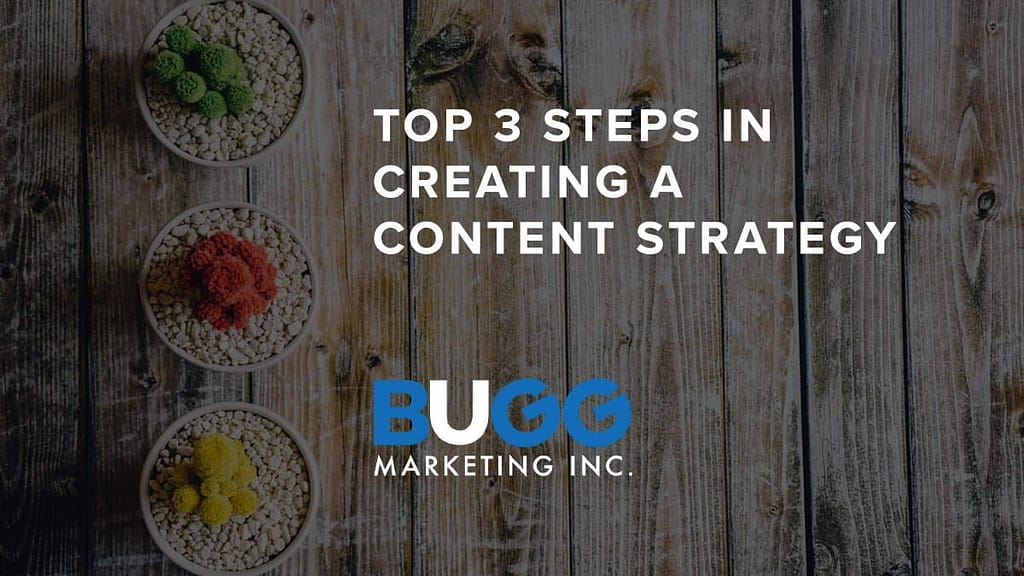 Does your business have a cohesive content strategy that will properly market your brand and message?
Content strategy and marketing has been the buzz phrase for a number of years now as it pertains to effectively getting your business brand message out to the masses. What exactly does it mean to market your company content? How does a business properly and effectively craft their message to reach their target markets? There are a few important steps to developing your company content strategy that will help move your business to credibility with your marketing efforts.
The reality is that the large majority of businesses are not effectively marketing their content because they don't have cohesive strategy. It's more than simply jotting a few notes on a page and telling the computer guru in the back room to post some content to the social media properties. It's more than posting an article to a blog and thinking you've done the job. There will be questions to ponder when developing your content strategy: What are the goals? Why do you want to market your content? Do you have content to push to market? Do you have capacity?
A well-documented, clearly crafted content strategy is integral for success. Here are the top 3 steps in creating a content strategy for your business.
Tools for creating a content strategy
What types of tools is your business using to create content? How is it then being pushed to the digital world? Is it through a blog, social media or app? Are you able to track ROI and measure the results of your efforts as to not waste time and resources?
There are many options and not every tool is a "one size fits all" model. For example, not every business may find a social media channel like Pinterest useful for their demographic. Twitter may not be where your customers are hanging out online. There needs to be an holistic audit of the content your company is producing and the channels being used to publish it.
Considerations like search engine optimization questions, internal technology requirements, automation options, employee capacity are tools needed to help your strategy become successful.
Audit of Content
There's a saying that it takes a songwriter writing a hundred songs to write a good one. This also holds true in developing content for your business and brand. Just because you write a blog post doesn't mean it's suitable or useful. Auditing content can be likened to getting a root canal for many, but it's a very necessary step to curate a cohesive marketing strategy.
The first thing you'll need to do for a content audit is compile a list of all publicly accessible online properties. This would include things like a website, all social media channels, email marketing and everything in between. Even things like PPC ad campaigns (pay per click) that you think would not a be a big deal are important. Everything content related that the public will see online about your company needs to be dissected to ensure its accuracy and brand messaging.
All company marketing collateral could also be audited to ensure the brand is following through all channels. The purpose of branding is to ensure that the user brand experience is the same through all collateral and, if your old logo is still on your handout brochure at the front desk, your brand will be compromised. It's also a good idea to have an unbiased, outside pair of eyeballs to ensure that simple things like spelling and grammar are correct.
At the completion of the content audit, there may be some interesting revelations about the content itself. There may also be some new ideas about how to simplify the process of content publication and new requirements for creation as well. The ultimate purpose of the content audit is to ensure the goals are met and that the process from start to finish is as simple, accurate and concise as possible.
Stakeholder interviews
A stakeholder is a person who is involved during the process of content creation. It can be a salesperson, service person, front-line worker or an executive. These interviews are usually set up by the client and it's recommended that those group being interviewed be a fair mixture representing all areas in the business.
There may be some surprising insights from the salesperson that the executives may never have thought of that would help the content process move smoothly. The creative group may have some different ideas on how the creative should be handled, and so on.
There are a number of questions that will be asked of each of the stakeholders. These questions would include things like:
What are the goals of the content?
Is there a vision of the content strategy process?
What tools are you needing to produce your content?
These questions will help level the playing field, so to speak, when creating a content strategy that all stakeholders feel they have a share in. Each stakeholder should be interviewed individually because some people simply feel more comfortable to share their ideas when they are free to open up without interruption or fear of being shut down. This process, as mentioned, helps everyone feel important in the process. It will build a stronger team and also possibly reveal new and better ways to complete the content creation process.
Content strategy is unique to each business and the needs will vary depending on size, branding and messaging. It is, however, integral for any business who wants to success online to have a well-documented and thought out content strategy.
If you would like some more information on how you could develop a content strategy or have questions on how we could help, please connect with us today. We'd love to help you out.
In today's data-driven digital landscape, understanding your website's performance is crucial for success. Google Analytics 4 (GA4) is the latest iteration of Google's analytics platform, and it offers a powerful set of tools to help businesses analyze their online presence effectively. To make the most out of GA4, it's essential to focus on the metrics…
Read More
We offer the following digital marketing services: Langley SEO company, Surrey Search Engine Marketing, digital marketing consultant, Abbotsford digital marketing.
Web hosting services by