Digital marketing strategy, graphic design + search engine optimization services in BC and Alberta
Pay Per Click Marketing + Management (PPC)
Developing a holistic digital marketing strategy includes a pay per click marketing component to help get your message heard above the white noise. Pay per click management ensures that your Google Ads are optimized to help your business get found. BUGG Marketing Inc. has the expertise to manage your ads and campaigns. We don't simply "set it and forget it."
Why do I need a Pay Per Click Digital Advertising Strategy (PPC)?
Have you ever made a post for your business in Facebook and wanted more people to see it, so you clicked 'BOOST POST'? Have you started a Google Ads campaign and not have a clue what all the choices mean?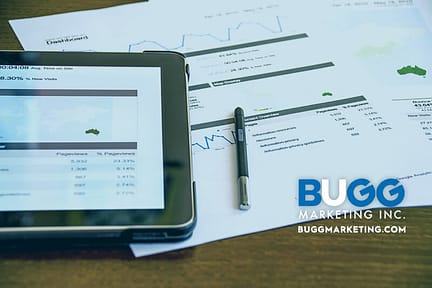 Well, we can help you navigate the process of starting a pay per click digital marketing campaign. Better yet, we can even create it for you to ensure your success with pay per click marketing. It's much more than simply picking out a few keywords and making some ads. Some questions that need to be asked before starting a ppc marketing campaign include:
What is the goal for the ads?

Do you have a content strategy to ensure that users see what you want them to see?

Have you considered the brand of what you're trying to sell?

Do you have unique landing pages for your ads?

Do you know what your key performance indicators (KPIs) will be for your ads? CTR? CPC?
We can manage all of these things for you with a concise, effective pay per click marketing plan.
What is PPC or pay per click digital advertising?
PPC stands for pay-per-click, and is a model of internet marketing where advertisers pay a fee each time one of their ads is clicked, such as Google Ads, Facebook Ads, Instagram Ads, LinkedIn Ads, Twitter Ads... it's endless. Essentially, it's a way of buying visits to your site or CTA (call to action), rather than attempting to "earn" those visits organically through search engine optimization.
Search engine advertising is one of the most popular forms of PPC or pay per click advertising. It allows advertisers to bid for ad placement in a search engine's sponsored links when someone searches on a keyword that is related to their business offering.
We've all seen the ads at the top of a Google search engine results page (SERP). They are labeled as an ad. Advertisers are paying, based on an auction system, to be in that spot so a potential customer will find them first.

Google Ads (formerly known as Google AdWords) is the most popular PPC advertising system. This platform enables businesses to create ads that appear on Google's search engine and additional Google properties.
Google Ads operates on a pay-per-click model, where advertisers will bid on keywords and key phrases and pay for each click on their advertisements. Every time a search is done, Google digs into the pool of advertisers and chooses a set of winners to appear in the valuable ad space on its search results page. The "winners" are chosen based on a combination of factors, including the quality and relevance of their keywords and ad campaigns, as well as the size of their keyword bids.
Appearing on the page is based on and advertiser's Ad Rank, a metric calculated by multiplying two key factors – CPC Bid (the highest amount an advertiser is willing to spend) and Quality Score (a value that takes into account your click-through rate, relevance, and landing page quality). This system allows winning advertisers to reach potential customers at a cost that fits their budget. It's essentially an auction.
Almost every person on earth has a Facebook account. We've all seen an assortment of ads during our daily pilgrimage to this social media site. Facebook Ads can appear in within almost every aspect within Facebook: in News Feed on desktop, News Feed on mobile, and in the right column of Facebook on desktop.
Facebook Ad content is sometimes paired with news about social actions that your friends have taken, like liking a Page. Your friends might see news about the social actions you have taken in Facebook ads.
Facebook ads now come in several varieties. You can promote your Page, posts on your Page, actions users took, or your website itself. Despite Facebook's increasing focus on native ads and keeping traffic on its site, you can still be successful sending users to your website.
Facebook ads are targeted to users based on their location, demographic, and profile information. Many of these options are only available on Facebook. After creating an ad, you set a budget and bid for each click or thousand impressions that your ad will receive.
Pay Per Click Marketing Case Study
We increased a company's Google Ads results after doing an audit on their current spend. We increased engagement with their ads by +348.75%, lowered their cost-per-click by -63.13% and improved overall performance of their Google Ads campaigns.
We offer the following digital marketing services: Langley SEO company, Surrey Search Engine Marketing, digital marketing consultant, Abbotsford digital marketing.
Web hosting services by